The North American 3 Hockey League's (NA3HL) Frontier Division had four series during the weekend of Oct. 21-22.
The eight-team division has had its share of great hockey since the start of the 2022-2023 campaign on Sept. 10. This past weekend was no exception.
Here is a look back at the weekend of action:
The Friday review
It was a night where all road teams logged wins, which had not yet happened in the Frontier this season.
Butte trailed Badlands 3-1 before making a late comeback to nip the Sabres in Rapid City, 4-3.
Helena led 2-0 before Yellowstone logged the equalizer in the second period. After departing the second period in a 3-3 tie, they played through the third period and overtime scoreless to force a shootout.
After the goaltenders saved shots in the first four rounds, Tyler Bloom beat Edvin Falkenstrom in the fifth round. Aidan Wright made the save on Joey Good's attempt to give Helena the 4-3 win and the extra point in the standings.
In a game that featured 13 goals, Gillette used 63 shots on the net to secure a 9-4 win at Great Falls.
Sky Solig led the Wild with a four-point night, with two goals and two assists. Isaac Young (goal, two assists), Adam Severson (goal, two assists), and Leighton Weasler (three assists) had three points each.
In Bozeman, Sheridan trailed 3-1 with 5:56 to go in the second period before scoring five goals in a stretch of 18:38 to win 6-3.
Six players scored for the Hawks, with McCaffrey Billings, Dalton Thomas, Wyatt Noble, Makhai Sparks, Jackson LeBrasseur, Ryan McKenna, and Dalton Thomas, each logging multi-point performances.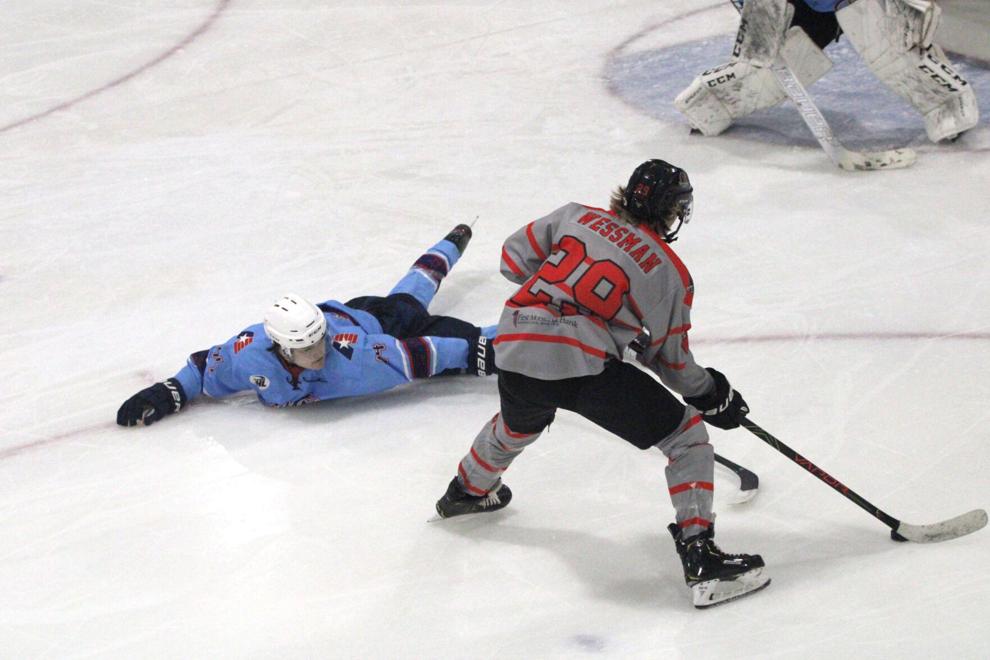 The Friday scoreboard
Butte 4 – Badlands 3
Helena 4 – Yellowstone 3 (SO)
Gillette 9 – Great Falls 4
Sheridan 6 – Bozeman 3
The Saturday slate
The home and visiting teams split the Saturday night schedule.
Badlands grabbed a 3-1 lead against Butte and staved off a late Cobras' strike to gain a split of the weekend series with a 4-2 win.
Zach Vockler scored the first two goals for the Sabres, and Kael Campbell scored an empty-net goal with two seconds to play to secure the win.
Yellowstone's Ben Carlson scored with 1:06 to play in the first period, and it stood until a power play goal by Harlan Wojtusik with 1:35 to play in regulation forced overtime and an eventual shootout.
Benjamin Kluza's goal in the second round of the shootout and Edvin Falkenstrom's save of Tyler Bloom's shot in the third round earned the Quake the extra point in a 2-1 win over the Bighorns.
Gillette broke open a 1-1 tie in the second period, with Sky Solig scoring on an even-strength tally with 3:54 to play, spurring a four-goal outburst by the Wild to get past Great Falls 5-1.
Jace Johnson scored twice in the game for the Wild. Dominic Hite made 27 saves in goal for Gillette.
Sheridan scored on three of their first seven shots and put the game out of reach in the second period as the Hawks beat Bozeman 7-4.
Makhai Sparks and Teejay Torgrimson had two goals apiece, and Parker Norling had three assists for Sheridan.
Bodie Shepardson had two goals for the Icedogs.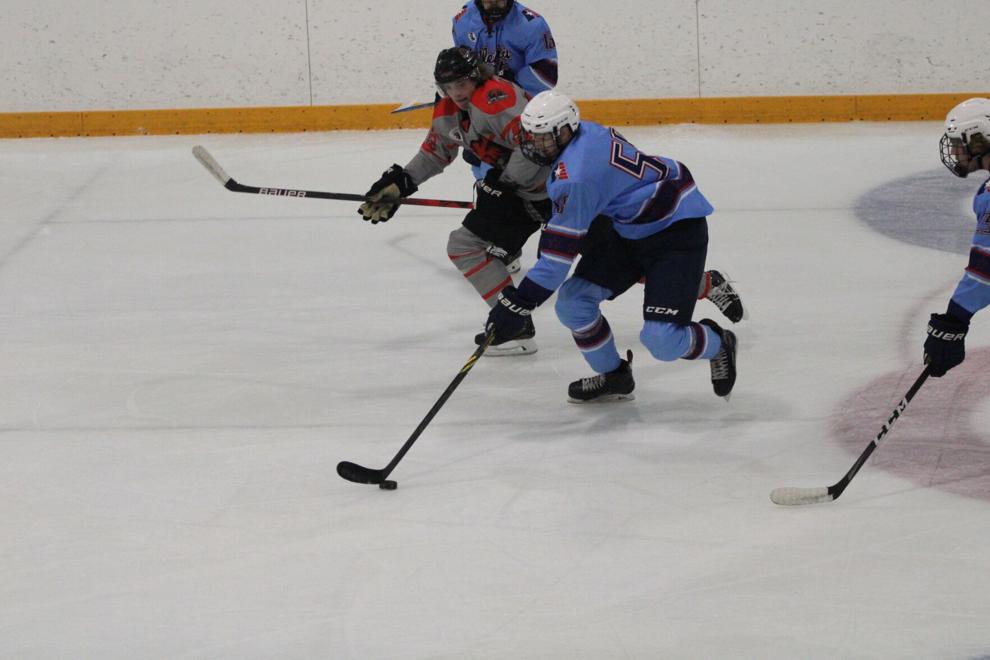 Saturday finals
Badlands 4 – Butte 2
Yellowstone 2 – Helena 1 (SO)
Gillette 5 – Great Falls 1
Sheridan 7 – Bozeman 4
Net assets
The Gillette Wild leads the NA3HL in goals with 76 through 12 games, a healthy 6.3 goals per game. The Wild lead the Helena, Northeast Generals, Louisiana Drillers, and Granite City Lumberjacks by 12 goals.
Sheridan ranks third in the Frontier in goals scored with 47, followed by Butte (44), Great Falls (34), Badlands (30), Yellowstone (25), and Bozeman (25).
Helena has allowed 18 goals through 14 games, tied with Northeast for third in the league.
Gillette (29) ranks second, followed by Butte (41), Yellowstone (44), Great Falls (47), Bozeman (51), Sheridan (59), and Badlands (61).
Living inside and outside the box
Bozeman leads the Frontier Division and is second in the NA3HL with 375 penalty minutes.
Sheridan is fourth in the league with 354 minutes, Helena (328) is tied for fifth with Mid Cities, and Gillette ranks tenth with 283 PIM.
Great Falls (200) ranks fifth in the Frontier, followed by Butte (197), Badlands (190), and Yellowstone (143).
Special teams successes
Gillette (44.6%) leads the Frontier in power play success. The Wild's 29 power-play goals lead the NA3HL by four goals over the Granite City Lumberjacks.
Sheridan (23.5%, 16 goals) is second, followed by Great Falls (23.4%, 11 goals), Helena (21.9%, 14 goals), Butte (21.9%, 11 goals), Yellowstone (13.3%, 8 goals), Bozeman (11.1%, 5 goals), and Badlands (9.1%, 4 goals).
Gillette and Helena are tied for the division lead in short-handed goals with four. Yellowstone has two short-handed goals, and Sheridan, Bozeman, and Badlands have one.
Helena (51-of-58) leads the division in penalty kill percentage with 87.9%.
Gillette (57-of-68, 83.8%) is second, followed by Bozeman (63-of-79, 79.7%), Great Falls (39-of-49, 79.6%), Sheridan (46-of-59, 78%), Butte (30-of-39, 76.9%), Yellowstone (31-of-42, 73.8%), and Badlands (33-of-56, 58.9%).
Sheridan has allowed four short-handed goals. Badlands has allowed three, Great Falls and Yellowstone have allowed two, and Helena and Bozeman have allowed one. Butte and Gillette have yet to allow a short-handed goal.
Sky's the limit
Gillette's Sky Solig has a four-game scoring streak that propelled the Wild's latest run.
Solig scored five goals in the streak and assisted on eight others for 13 points.
Gillette's Jace Johnson, Butte's Nick Bradshaw, Luke Schleusner, Sheridan's Parker Norling, and Makhai Sparks have registered prolific point streaks this season in the Frontier.
In a four-game run, Johnson scored six goals and logged three assists.
During a three-game run, Bradshaw had five goals and six assists.
In a four-game streak, Schleusner had eight goals and two assists.
Norling scored three times and registered six points in a four-game stretch.
Sparks had eight points in a two-game series, scoring three goals and five assists.
Frontier players in the NA3HL Top Ten in scoring
Butte's Nick Bradshaw (9 goals, 14 assists, 23 points) leads the Frontier Division and is fourth overall.
Gillette's Jace Johnson (14 goals, eight assists, 22 points) is fifth overall. Johnson also leads the NA3HL in power-play goals with seven and is ranked second with 14 goals.
Four Frontier Division players are tied for sixth in the league: Gillette's Anthony Foster (9-11-20), Helena's Tyler Bloom (9-11-20), Gillette's Skye Solig (7-13-20), and Butte's Cade Wessman (5-15-20).
Sheridan's Makhai Sparks (9-10-19) leads all defensemen in scoring and is tenth overall. Sparks leads defensemen and is tied for second with five power-play goals.
Helena's Harlan Wojtusik is tied for sixth, with three others with ten goals.
Foster, Gillette teammates Isaac Young and Adam Severson, and Great Falls' Alex Leaf are all tied for third in the lead with seven assists on the power play.
Butte's Tamer Billman, Gillette's Saizha Norwegian, and Sheridan's Parker Norling are all tied for seventh in the league with six power-play assists.
Bozeman's Nate Brunelle is the only Frontier member in the top ten in penalty minutes, as his 68 PIM is tied for seventh with Northeast's Sean Gorman. Issac Fuller of Mid-Cities leads the league with 135 PIM.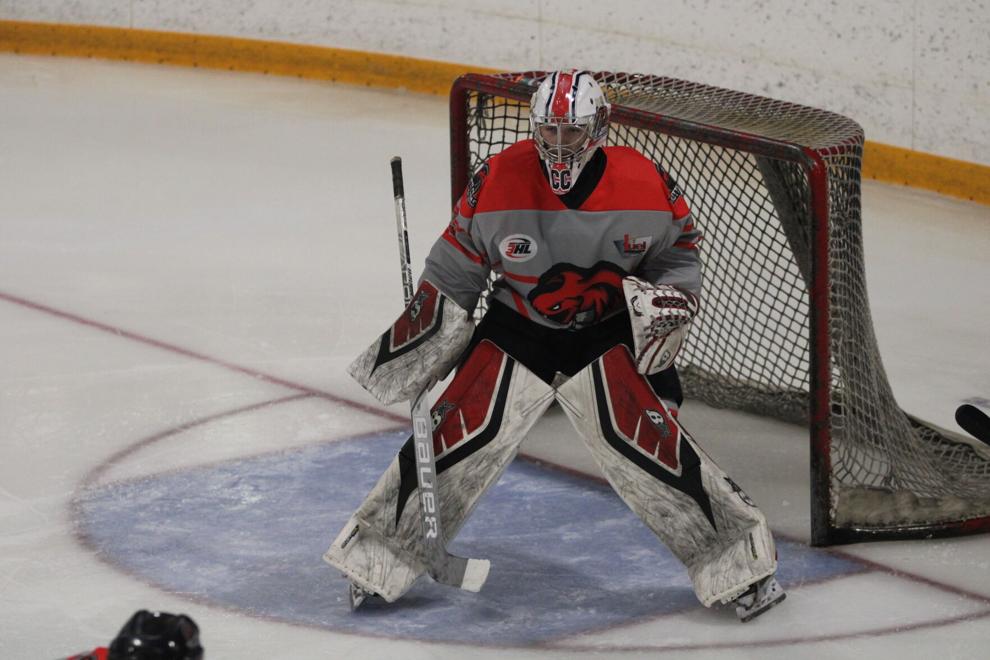 Frontier goalkeepers in the NA3HL Top Ten rankings
Helena's Gabe Swanson is tops in the NA3HL in goals allowed average with a 0.29, shutouts (5), save percentage (.986), and has allowed a league-low two goals in seven games.
Gillette's Dominic Hite's .958 save percentage is fourth in the league, and his 1.47 GAA is sixth.
Bozeman's Cam Milewski leads the league in saves with 506 stops, while Badlands' Zach Broxterman (428) ranks fourth, Great Falls' Josh Koziol (418) ranks fifth, Yellowstone's Edvin Falkenstrom (319) ranks sixth, Butte's Caleb Cross (296) ranks ninth, and Sheridan's Jack Wood (294) ranks tenth.
406 Stars of the Weekend
While there was a truckload of great performances over the weekend, giving each team a star would be the best policy.
Badlands: Zach Vockler (two goals, two assists)
Bozeman: Owen House (two goals, two assists)
Butte: Cade Wessman (two goals, assist)
Gillette: Sky Solig (three goals, two assists)
Great Falls: Josh Koziol (82 saves on 88 shots)
Helena: Harlan Wojtusik (three goals)
Sheridan: Makhai Sparks (three goals, four assists)
Yellowstone: Edvin Falkenstrom (76 saves on 80 shots)
The standings in the Frontier Division
Pl. Team W-L-OTL-SOL-PTS
1. Helena 12-1-0-1-25 (Best record in NA3HL)
2. Gillette 10-1-0-1-21 (Fourth-best in league)
3. Butte 6-5-1-0-13
4. Great Falls 6-6-0-0-12
5. Sheridan 5-6-1-0-11
6. Badlands 3-8-1-0-7
7. Yellowstone 3-8-0-1-7
8. Bozeman: 3-9-0-0-6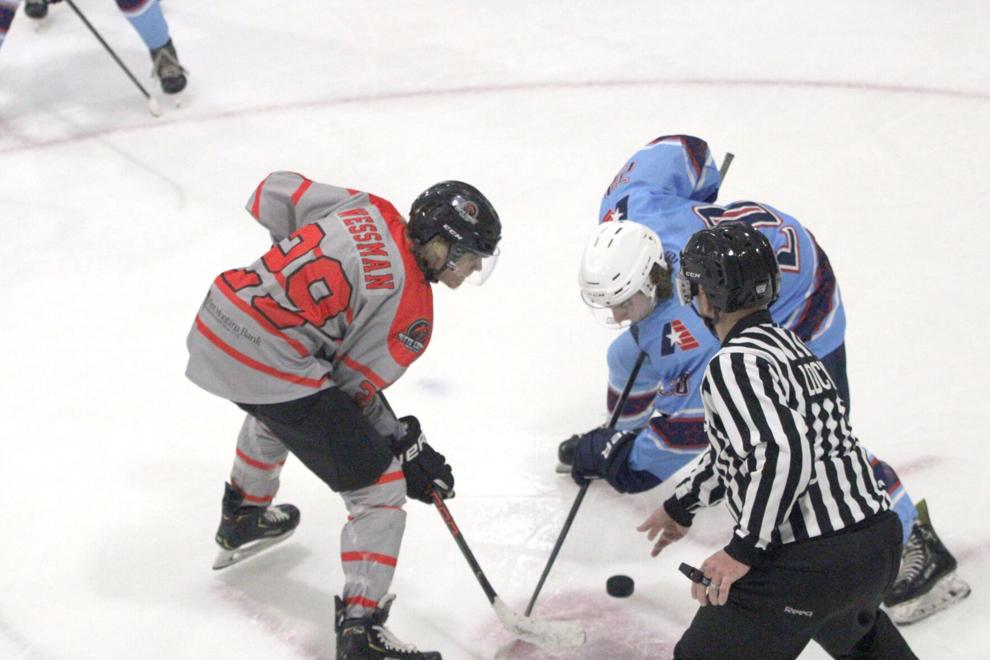 This weekend in the Frontier
Butte will head to Spirit Hall Ice Arena to take on the Gillette Wild in a two-game series starting Friday.
Bozeman will head to Riley Arena to take on the Yellowstone Quake in two-game series starting Friday in Cody, Wyoming.
Badlands will head to Great Falls to take on the Americans in a two-game series starting Friday at the Great Falls Ice Plex.
Helena travels to Sheridan on Friday for a two-game set against the Hawks at the M&M Center's Whitney Rink.