Mike Trout has dominated the sport of baseball with his mind-blowing performances since his entry into MLB. He has displayed extraordinary batting and fielding skills throughout his career. Consequently, within a brief time, he developed into a modern-day baseball icon. Therefore, any collectible with Trout's autograph is valuable memorabilia for a baseball fan.
ADVERTISEMENT
Article continues below this ad
Mike Trout made his MLB debut in 2011 as the center fielder for the Los Angeles Angels. He got nicknamed 'Millville Meteor' for his razor-sharp agility on the field. Being a megastar slugger with tearaway muscular prowess, he has mounted 350 career total home runs until now. Trout is remarkably a 10-time All-Star player.
ADVERTISEMENT
Article continues below this ad
Notably, Trout is presently the holder of the largest contract in MLB history. He signed a 12-year term contract worth $426.5 million with the Angels in 2019. His contract also contains no opt-outs and a full no-trade clause until contract expiry. Thus signifying Trout's value to his team and the sport overall.
Mike Trout impressed by a treasured collectible
Mike Trout had an injury-ridden campaign this MLB season. Nonetheless, he still left his mark with memorable performances while also chasing a record. However, his team got eliminated from playoff qualification.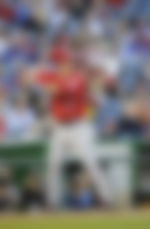 Away from the postseason action, Trout was seen with a bunch of baseball trading cards, including one autographed by him.
Speaking in the promotional video, Trout said, "I started collecting probably early April. And this was the first trial auto I've ever pulled on myself. We went absolutely nuts. You know, we did the slow process of having the topps card on. And slowly reveal and saw my hand. I said, 'that's me'."
Read More – 'Talk About a Great Present!'- Angels Icon Mike Trout Gave Signed Memorabilia to a Young Fan in Exchange for His Consecutive Seventh Home Run Ball
ADVERTISEMENT
Article continues below this ad
Trout further added, "And then sold the auto and then to be able to finally get it back. You know from PSA and you guys, it means a lot to me. So this is definitely a special card."
How did Mike Trout's seasonal campaign go?
Trout is a match-winner who unfortunately plays for a fragile team that repeatedly falters throughout the regular season. The Angels have remained unsuccessful in qualifying for the playoff round since 2014. With another poor win-loss record, the Angels again had to bow out this year. Therefore, despite all of Trout's heroics, he is yet to lift a World Series trophy.
ADVERTISEMENT
Article continues below this ad
Watch This Story – Someone Tried Correcting Mike Trout's Swing Without Realizing It Was Him
Would you someday like to own a Mike Trout topps card with his autograph?