Nelly Korda is one of the most successful players on the LPGA Tour. The Olympic gold medalist has made tons of records on the field. But there was a time when victory was not very easy to achieve for the golfer. But her strong statements after the win made it all worth it for the fans.
ADVERTISEMENT
Article continues below this ad
Nelly Korda gave a strong speech after winning a famous tournament
ADVERTISEMENT
Article continues below this ad
It was during the Pelican Women's Championship when Korda shared the lead with Lexi Thompson on the tee box of the par-4 17th. But soon, Thompson missed a short putt. And that allowed Korda to pump her drive down the fairway. In the end, the golfer held the winning trophy in her hands on Sunday.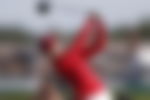 But the tournament was better remembered for what happened after she won. Korda said after her victory, "You didn't want to know what I was saying from the 18 tee box to the 18 iron shot,". She said she was venting adding that "There were definitely F-bombs flying around just here and there".
ADVERTISEMENT
Article continues below this ad
Korda mentioned that she was furious at the 18 tee box, and almost felt like she would lose the tournament. However, she decided to take a moment to focus and recenter herself after her caddie advised the same. McDede, Korda's caddie told her, "I want you to take this one minute and just think positive thoughts…No negativity" And maybe that is what made all the difference in the end. Korda said that she was constantly motivating herself thinking "give it your best shot and see what happens,'. And to her surprise, it worked!
Ending her statement at the tournament, Korda said, "Even though I say I think I lost hope, I will never give up. I'll go down fighting every single time." And that is what got her fans all hyped up about her victory at the tournament.
How much does Korda earn playing pro golf?
ADVERTISEMENT
Article continues below this ad
According to Forbes, Nelly Korda falls among the list of the Highest Paid Female Athletes of 2022. She was given ninth place on the list with over $5.9 million in career earnings. However, $3.5 million out of her total earnings comes from outside the course. While she has earned the remaining $2.4 million from professional tournaments.
Watch This Story: Nelly Korda Announces She's Taking a Break From Golf