Sam Van Galder didn't know golf course art was a thing until he visited the merchandise tent at the 2017 U.S. Open at Erin Hills and saw people standing in line to get artist Lee Wybranski's signature on the poster he had created for the championship.
"I remember picking up that poster and I was like, 'This is really cool,'" said Van Galder, who teaches art at Janesville Parker High School and also happens to be an elite amateur golfer. "I never really thought that art and golf mixed until I saw that."
When the coronavirus pandemic closed schools and golf courses early in 2020, Van Galder had time on his hands and worked up a few trial golf course paintings. He sent them to Geoff Pirkl, the WSGA's director of rules and competitions and an old friend from their junior golf days, and to WSGA Executive Director Rob Jansen.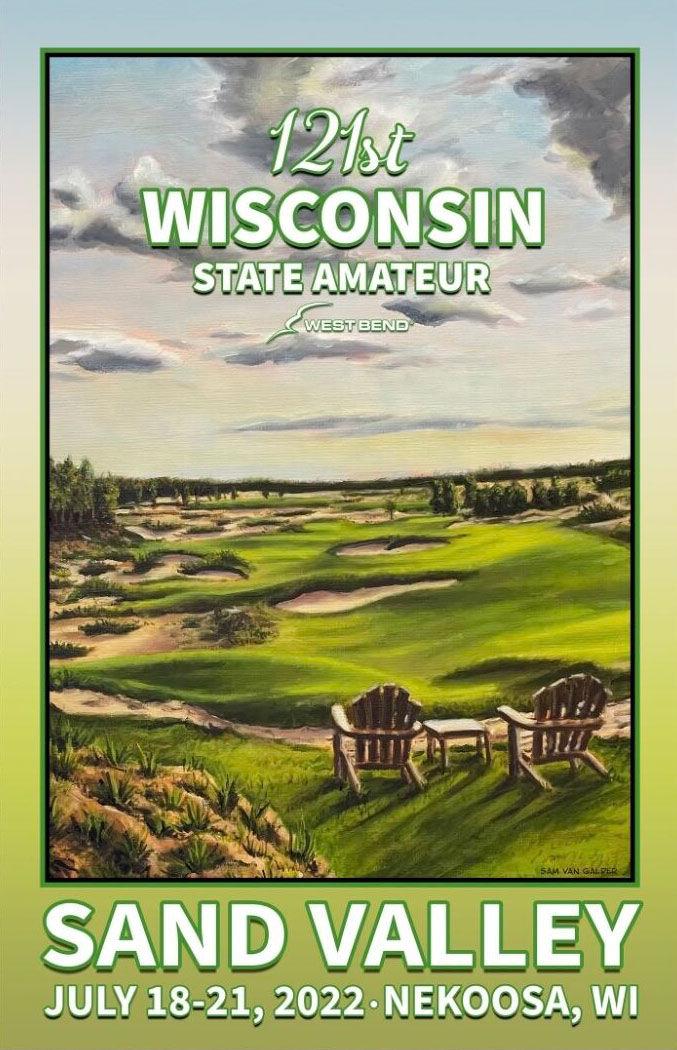 View more of SAM VAN GALDER'S GOLF ART on his Instagram page
Van Galder pitched an idea: he would do an oil painting of Westmoor Country Club, host site of the 2021 State Amateur, and the WSGA could turn it into a poster and hand it out to contestants. As a keepsake, it sure beat a hat or a towel.
"Their immediate response was, 'Yes, we need to do this,'" Van Galder said.
His Westmoor print, which depicts the 18th green and clubhouse under a sky streaked in blue and yellow, proved to be so popular that the WSGA asked Van Galder to do paintings for all four "majors" in 2022: the State Amateur at Sand Valley, the Women's State Amateur at West Bend CC and the men's and women's Senior Amateurs at Blackhawk CC and Reedsburg CC.
Van Galder, 36, uses oil as his medium for golf course art, though he also works in watercolor and acrylic. His paintings are done in vibrant splashes of color and capture scenes that are unique to each course. His Sand Valley poster, for instance, features a pair of Adirondack chairs overlooking an expanse of turf and sand.
Van Galder's mother was an art teacher, and he discovered his talent at an early age. He also had a second talent: golf.
"I always joke with people that my two best skills are the two things it's hardest to make money at," he said with a laugh.
Van Galder played on the golf teams at South Mountain Community College in Phoenix and at Rollins College in Orlando before returning home and graduating from UW-Whitewater with a double major in fine arts and art education.
"I kind of hit a wall with golf," he said. "You get to a point where you realize there's just some really, really good golfers out there."
He still competes at a high level, however, having qualified for the State Amateur 10 times since 2005, with a best finish of T-31. He won the WPLA Mid-Amateur in 2015 and has finished as high as fourth in the Ray Fischer Amateur Championship at Janesville Riverside Golf Course, a hometown event for the Janesville native.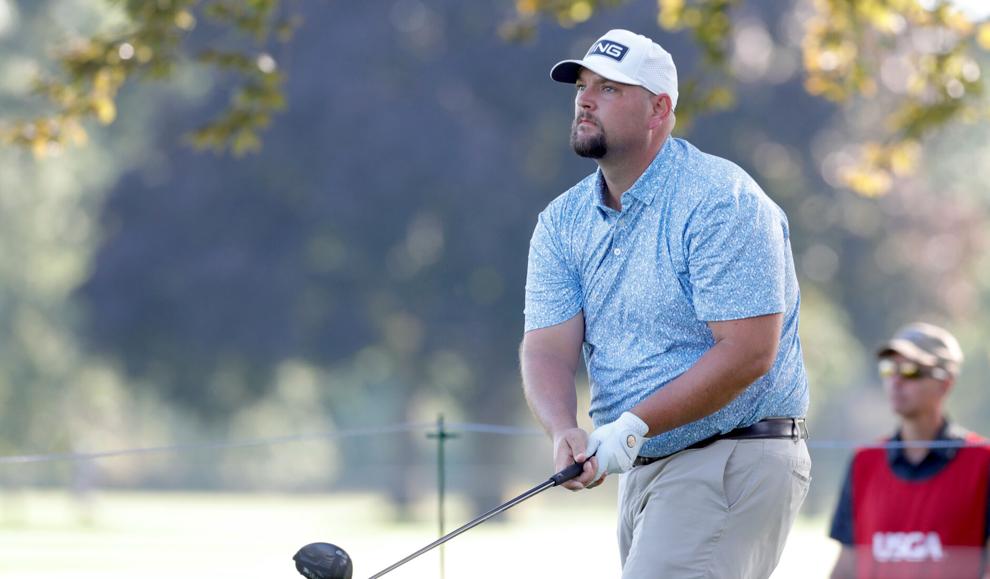 This year, Van Galder achieved a golfing milestone by qualifying for the U.S. Mid-Amateur Championship at Erin Hills (and Blue Mound Golf & Country Club, the co-host course for stroke-play qualifying). The U.S. Mid-Am is the national championship for golfers ages 25 and older.
"I've just never really had the major breakthrough to qualify for something or to win a huge event," he said. "So for me, it's kind of icing on the cake. When I look back on my golf career I can say, 'You know what? I qualified for one of those things.' That's pretty cool."
Van Galder has a website, samvangalderart.com, and hopes to make a name for himself in the world of golf course art.
"I'd love to say I'm the next Wybranski," he said. "That would be a dream career, to travel around and paint golf scenes. You've got to start somewhere and luckily I've got an awesome state golf association that is on board and wants to help move me along as well as offer cool stuff to their players."