It's neither right nor is it fair to see what we're seeing with the Next-Gen car in NASCAR, considering the promises it made. However, it's also not sensible to expect an overnight change, at least that's what Chase Elliott believes.
ADVERTISEMENT
Article continues below this ad
It is a delicate situation and NASCAR's Most Popular Driver shed some light on its reality of it in a recent interview.
"They wanna get together and talk this weekend, which is good. You hope that we can find a path forward. There's still some racing left this year, so I think it's a bit unreasonable to ask for a fix that can happen overnight in the closing month of our season," the Hendrick Motorsports driver said. "That's a tall ask."
ADVERTISEMENT
Article continues below this ad
"Is that reasonable to do with all the logistics it would take to do at this point? Probably not," Elliott continued.
He described how at this point of the year, it's unreasonable to make an emergency change considering the logistics, something which is frustrating to him.
WATCH THIS STORY: "Fans Just Fainted" After Richard Childress Anointed Kyle Busch the "Modern-Day Dale Earnhardt"
Chase Elliott feels NASCAR really shouldn't be where they are
Having expressed his frustrations and what he feels is an unreasonable ask, Chase Elliott also confessed that they shouldn't be in this position they find themselves in, in the first place.
"We should not have been in this position to have needed this type of change," he said.
The #9 driver referenced the drivers who have taken a hit this season, most notably Kurt Busch, Cody Ware, and Elliott's teammate, Alex Bowman, to further his point.
ADVERTISEMENT
Article continues below this ad
"I see Alex's wreck, it's a great example, I wholeheartedly believe that he shouldn't ever see the concussion from that," he added.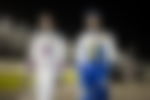 With that said, do you think NASCAR will listen to their star driver or are there some urgent changes coming in the final stretch of the season?
ADVERTISEMENT
Article continues below this ad
Let us know in the comments below.